Located in the beautiful Hill Country of Central Texas!
FIRST PRESBYTERIAN CHURCH
Join us for worship this Sunday

​​
WORSHIP LEADERS
​
Rev. Don Owens, Pastor
​ Pat Lemmon,
Pianist

​​
Paul Ennis, Session Clerk​​
Have you ever driven past our quaint little white church and wondered??
P​lease don't just drive on by. STOP and
worship with us.
1306 Ford Street, Llano, TX ​ Phone: 325-247-4917
WORSHIP TIMES



Sunday School 10:00 AM
Worship​​ 11:00 AM
​​
​


Pastors'Sunday Schedule



​Rev. Don M. Owens: 1st, 2nd, 3rd
Rev. ​​​​​Ron Anderson: 4th

​
An Special Invitation from All of Us

​​First Presbyterian Church Llano will celebrate 135 years on Sunday, May 22, 2016.

A pot-luck luncheon will follow the Worship Service. The message will be presented by Ron Anderson.

Join us on this special day!​​​​

Located at 1306 Ford St, 3 blocks south of Historic Downtown Llano, on the corner of Ford and Green St, you can't miss our quaint little white church building. Founded May 22, 1881. It hasn't changed much in over 135 years. (We have updated a few things.)

Step inside and experience the warmth and simplicity of the past. We promise you will feel welcomed and loved.

Don't hesitate! Just come right on in.​​​​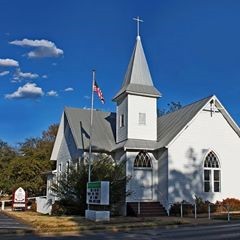 COOKBOOKS HAVE ARRIVED!

The Women of the Church have created a new cookbook to celebrate the 135th anniversary of the church. It has new recipes and old. Some of them are from the first cookbook published in 1908.

​​The new book will be available for purchase beginning May 1.
​
Price for a rare book of treats: $10. ​Get them at the church or place an order. Please include $5 for shipping and handling on all orders.

​