FIRST PRESBYTERIAN CHURCH
1306 Ford Street, Llano, TX ​ Phone: 325-247-4917
"He is Risen, He is Risen Indeed"​
New banners for the Easter Season​
Located in the beautiful Hill Country of Central Texas!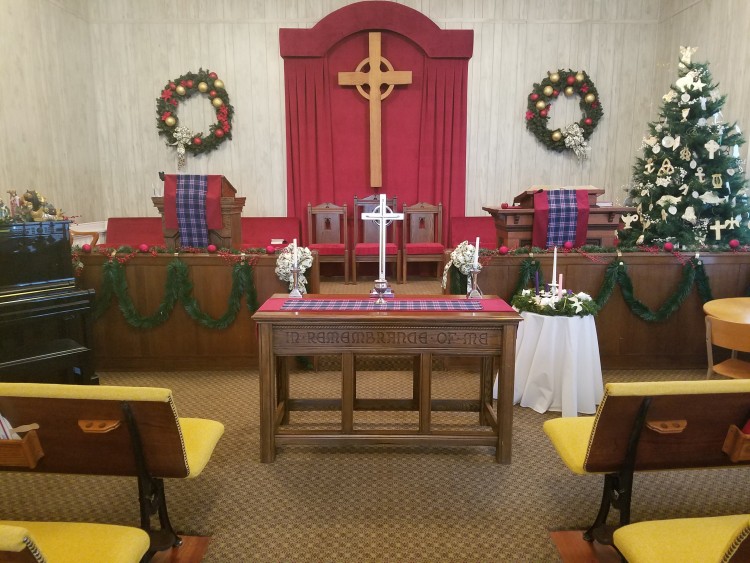 "A Merry Christmas and a Happy New Year to You" was the verse that was shown on the first commercially available Christmas card in 1843. Christmases were merry long before that.

​​The use of 'Merry Christmas' as a seasonal salutation dates back to at least 1534, when, on 22nd December, John Fisher wished the season's greetings in a letter to Thomas Cromwell, recorded in Strype Ecclesiastical memorials, 1816:

"And this our Lord God send you a mery Christmas, ..."
​
1843 was the date of the publication of Charles Dickens' Christmas Carol and it was around that time, in the early part of the reign of Queen Victoria, that Christmas as we now know it was largely invented. The word merry was then beginning to take on its current meaning of 'jovial, and outgoing' (and, let's face it, probably mildly intoxicated). Prior to that, in the times when other 'merry' phrases were coined, for example, make merry (circa 1300), Merry England (circa 1400) and the merry month of May (1560s), merry had a different meaning, that is, 'pleasant, peaceful and agreeable'.

At one time,​​ merry also meant, 'mighty'. In the stories of Robin Hood (1500s); for example, the Merry men were not peaceful. They were mighty men. Merry meant companions-in-arms to a knight or outlaw chief. The men were all "merry or mery." They were mighty.

Today, when we sing the song, "God rest ye merry, Gentlemen," we tend to ignore the punctuation. The comma is important.
​​​
Even Sir Charles Dickens, in the book, "A Christmas Carol," put the comma in the wrong place. The carol's wish is that the gentlemen have a pleasant, peaceful, mighty rest, not that the individuals are jovial, outgoing, mildly intoxicated gentlemen.

Our traditional Christmas greeting could be a wish for everyone to "Have a pleasant and peaceful, or a strong and mighty Christmas."

Have a Mighty Christmas!​​​​​