FOUNDING MEMBERS

•Rev. J. H. Zivley
•F. F. and Lizzie J. Brown and their children
•Joseph (Joe) F. Brown - charter Ruling Elder
•Joseph T. McInnis - charter Ruling Elder
•Mrs. Nannie W. Haynes
•Mrs. L. M. Duglas
•Mrs. S. H. Keese
•Mrs. Ida F. Johnson
~~~~~~~~~~~~~
PASTORS

•1881 - 1884 J. H. Zivley
•1887 - 1888 R. B. Palmer
•1888 - 1889 C. H. Dobbs
•1891 - 1894 J. C. (Jacob Clarke) Grow
•1898 - 1899 H. V. Tull
•1900 - 1908 Edward Bailey
•1910 - 1911 J. E. Wiley
•1912 - 1915 G. T. Bourne
•1915 - 1917 J. F. Eddins
•1920 - 1921 S. C. Chandler
•1921 - 1922 E. W. Barrington
•1923 - 1932 Wesley Prince
•1933 - 1933 J. W. Campbell
•1934 - 1934 J. W. Hazel
•1934 - 1937 Tom Van Puffelen
•1937 - 1939 Wilford Penny
•1939 - 1941 James I. McCord
•1941 - 1944 J. P. Crow
•1945 - 1946 Louis Petmecky
•1946 - 1950 George C. Lenington
•1953 - 1956 James W. Newton
•1956 - 1958 James R. Sheppard, Jr.
•1960 - 1966 Hugh Walter Sanders
•1967 - 1971 John H. Brannon
•1975 - 1976 Paul S. Norris
•1981 - 2006 Chaplain Joseph Degi
•2006 - 2006 James Rose
•2007 - 2007 Fred Abney
•2007 - 2012 Richard Lounsbery
*2012 - 2014 Fred Abney
other guest clergy​
*2014 - Rev. Carol Clarke​
other guest Clergy
& lay speakers​​
2015 - Rev. Fred Abney
Seminary Students
& lay speakers.​​
*2016 Rev. Don Owens
Ron Anderson

In May of 1881, our founders first gathered to worship in Llano. Later, in January 1893, the land where we meet today was deeded to First Presbyterian Church by Mr. J. Duff Brown, Jr. The original building was erected shortly thereafter. A few years passed and we expanded the original sanctuary building with the classroom addition. We use the original building today, little changed from its original form.

The 1880 Federal Census records that the town had five retail merchants, two livery stables, a blacksmith, a lumber yard, two hotels, three physicians, two druggists, two butchers and three saloons. Three churches had been organized: Methodists, Lutherans, and Baptists.

Our Church history goes back to a time when Llano was part of the Texas frontier. In 1873, the Packsaddle Indian Battle was fought and was still fresh in residents' memories. Lawlessness and shootouts were still common. James Garfield had just been elected president in March of 1881. In 1882, the Carter-Coggins family feud erupted with bullets flying in downtown Llano, leaving both, dead and wounded. Then, in 1889, two ex-sheriffs battled each other on Main Street right at the courthouse square. Such were the times in Llano when our little church was founded.

.
OTHER EARLY MEMBERS


Frederick Opp, first Llano City Mayor
Ella Opp, wife of Frederick
R. A. McInnis, Sheriff; first Llano Alderman
H. R. McInnis, first Llano City Attorney
W. H. Roberts, Texas Ranger
Rosa Tate Roberts, wife of W. H.​
Dr. W. Y. Fowler, Early Llano Doctor
Elmon D. Stewart, re-elected Sheriff/Tax
1926-1942, when he chose not to run
Susie Kuntz Stewart, wife of Elmon D.



An early day Llano street scene facing south-east down Main street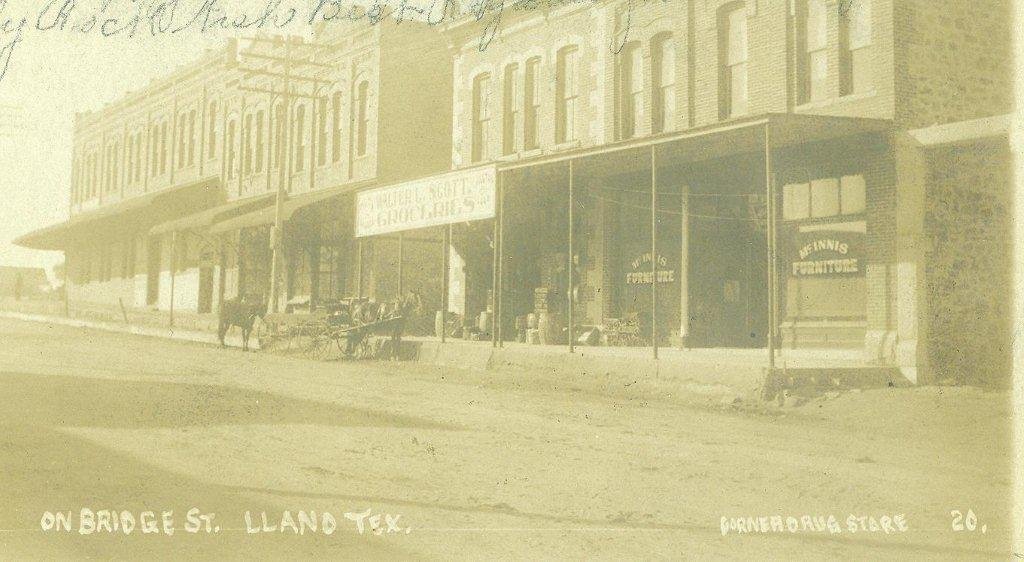 Right: An early day Llano picture showing our early member's establishment, W. McInnis Furniture, far right. the building, far left, with covered walk houses an Italian Restaurant at this time.It is known as the Haynie Building. The upper floor was once Llano Hospital. Bridge Street was renamed Ford Street..

FIRST PRESBYTERIAN CHURCH
1306 Ford Street, Llano, TX ​ Phone: 325-247-4917
Located in the beautiful Hill Country of Central Texas!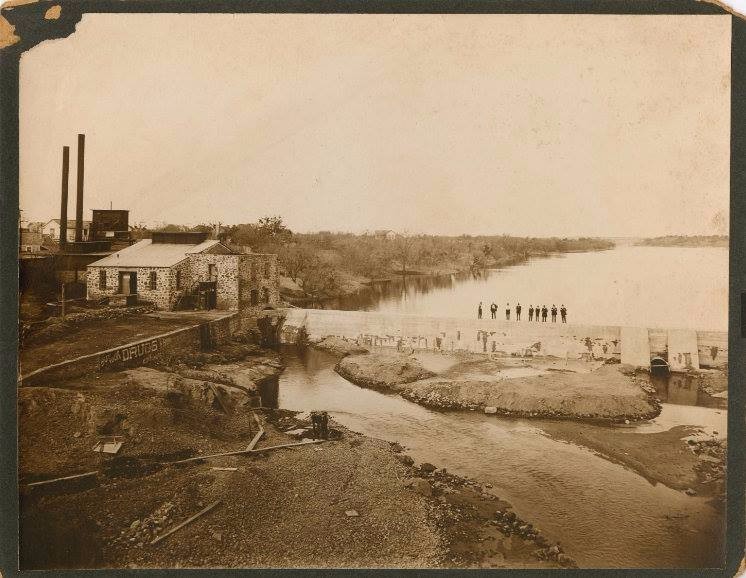 A very early scene of the dam in Llano. Note the advertising painted on the retaining wall. (from Llano Main St Collection)